Chrome Update Announcement
Parents, guardians, students, and friends of the Smithfield students,
We have to do a quick upgrade to the iBoss filter component that protects student browsing, the Chromebook devices and ultimately your student.
THIS UPDATE WILL BEGIN after 3 PM on 5/8/2020. After that time we ask that you restart your Chromebook several times Friday night or Saturday morning to initialize the new code extension.
during those restarts, you may see a pop up dialog box when the Chrome Browser loads....what looks like a login screen on first or second installation of the code.
It will look like this: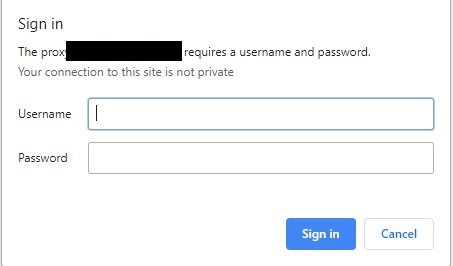 Do not attempt to enter any password or username, JUST CLICK CANCEL. This dialog box will disappear after one or two clicks and is a one time occurrence and expected behavior during the installation of the upgraded code.
This process has shown to improve performance of the Chromebook overall and we hope will lead to less service calls regarding loading or site errors. You do not have to call or email support UNLESS the device cannot get past this dialog box after several tries.
Thank your for your assistance with this and we continue to be available to you and your students during this unique time.
Regards,
Scott B. Barnett
Technology Director